Ball Z: Second Dimension
A downloadable game for Windows, macOS, and Linux
Game with balls. Even more of them.
How To Play
Hold `Spacebar` to power up and release it to unleash the force, pushing Master Bawl in the direction of your cursor.
Bump into Red Balls with high velocity to increase Master Bawl's patience and give you more time to finish the level.
Requirements
* OpenGL 3.3+
* 64-bit version of Windows, macOS or GNU/Linux
Sources
GitHub Repository

Install instructions
Binaries
Download archive for your system
Unpack
Run ball-z-2d
Enjoy!
From sources via Quicklisp

(ql-dist:install-dist "http://bodge.borodust.org/dist/org.borodust.bodge.txt" :prompt nil :replace t)
(ql:quickload :ball-z-2d)
(ball-z-2d:run)

Download
Comments
Log in with itch.io to leave a comment.
ez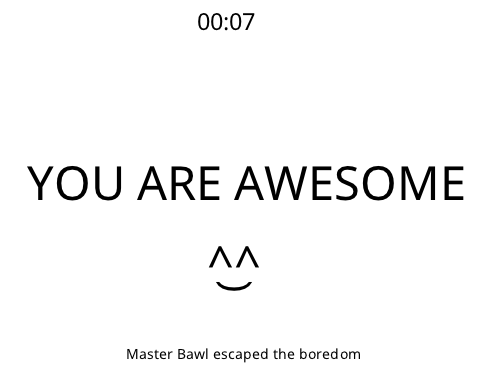 Nice! Short and fun. Would speedrun

That was fun! Took a lot of tries.
Worth continuing on.